COVID-19 Boost yourself poster - NIP8806
Reviewed

June 2023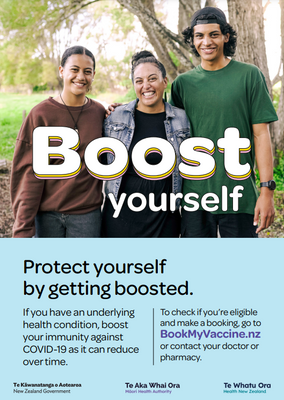 This resource relates to the following topics:
Information on how to check if you're eligible for a COVID-19 booster and where you can go to book a booster.
Printed copies can be ordered from the National Immunisation Programme Bluestar portal https://portal.bluestar.co.nz/login/moh_vaccine
The full resource:
Boost yourself
Protect yourself by getting boosted.
If you have an underlying health condition, boost your immunity against COVID-19 as it can reduce over time.
To check if you're eligible and make a booking, go to BookMyVaccine.nz or contact your doctor or pharmacy.