Do I Need to Find Out About Diabetes?
Reviewed

June 2013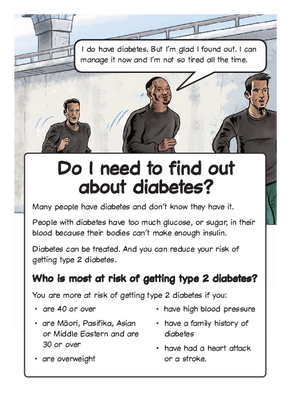 This resource relates to the following topics:
This diabetes leaflet encourages readers to find out more about diabetes and whether they are at risk of having diabetes. It provides information for prisoners, their families and Corrections staff about diabetes, including who is most at risk, possible symptoms, and the treatment of diabetes.
The full resource:
NOTE: This Department of Corrections resource cannot be ordered from this website. All men's prisons throughout New Zealand received hard copies of this resource in July 2013.
I do have diabetes. But I'm glad I found out. I can manage it now and I'm not so tired all the time.
Do I need to find out about diabetes?
Many people have diabetes and don't know they have it.
People with diabetes have too much glucose, or sugar, in their blood because their bodies can't make enough insulin.
Diabetes can be treated. And you can reduce your risk of getting type 2 diabetes.
Who is most at risk of getting type 2 diabetes?
You are more at risk of getting type 2 diabetes if you:
are 40 or over
are Māori, Pasifika, Asian or Middle Eastern and are 30 or over
are overweight
have high blood pressure
have a family history of diabetes
have had a heart attack or a stroke.