Shoo the Flu poster - Pasifika design - NIP8737
Reviewed

June 2023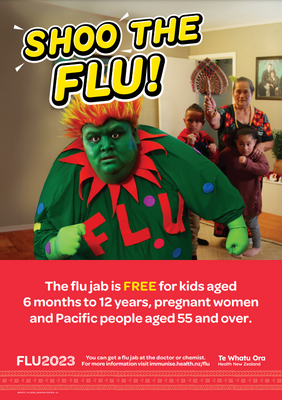 This resource relates to the following topics:
As part of the 'By Pacific, For Pacific' campaign, this poster contains information about who can get a free flu jab and where to get more information.
Printed copies can be ordered from the National Immunisation Programme Bluestar portal https://portal.bluestar.co.nz/login/moh_vaccine
The full resource:
Shoo the Flu

The flu jab is FREE for kids aged 6 months to 12 years, pregnant women and Pacific people aged 55 and over.
You can get a flu jab at the doctor or chemist.
For more information visit immunise.health.nz/flu.