Yes, You Can!
Reviewed

June 2019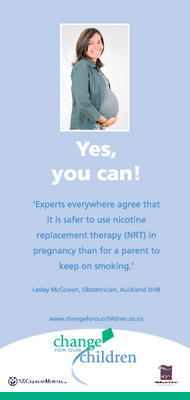 This resource relates to the following topics:
NRT is safer than smoking while pregnant. Information on using nicotine replacement therapy (NRT) for a smokefree pregnancy.
The full resource:
Experts everywhere agree that it is safer to use nicotine replacement therapy (NRT) in pregnancy than for a parent to keep on smoking.
What is NRT?
NRT is a smoking cessation aid. Like crutches, it can be something to lean on as you take your first steps as a smokefree person. Low-cost options are: gum that you chew, lozenges that you suck or patches that you put on your skin. There are various flavours and doses.
How does NRT work?
NRT stops cravings. You still get some nicotine, but in a safer way and more slowly. It helps to weaken the addition. Gum or lozenges are best in pregnancy.
Is NRT safe for my unborn baby?
It is essential that both mother and baby are protected from tobacco smoke during pregnancy. No nicotine is good for your baby, but NRT is a lot safer than smoking.
What if I do keep on smoking?
When you smoke so does your baby. Harmful toxins cross the placenta. Your baby gets a higher dose than you do and is trapped with the toxins. The placenta is damaged and pregnancy may end early. Your baby is permanently weakened by the harm, and may die.
How do we get NRT?
Ask your midwife, nurse or doctor, or, call your DHB for details of local smokefree services, or, call Quitline (0800 778 778). While NRT helps reduce cravings, support from people who care makes a difference too.
Information for your midwife, nurse or doctor
In summary, an analysis of the risks and benefits of smoking versus using NRT in pregnancy overwhelmingly supports the use of NRT.
© 2010 Change for our Children