Be protected against Meningococcal disease poster - HP8699
Reviewed

June 2023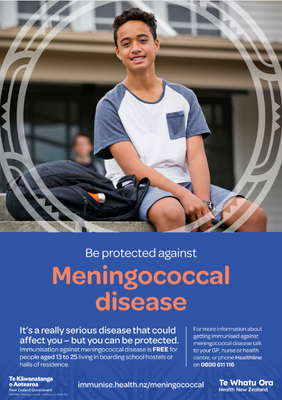 This resource relates to the following topics:
A4 poster about meningococcal disease for those aged 13 to 25 moving into or living in a boarding school hostel or hall of residence.
The full resource:
Be protected against Meningococcal disease.
It's a really serious disease that could affect you – but you can be protected.
Immunisation against meningococcal disease is FREE for people aged 13 to 25 living in boarding school hostels or halls of residence.
For more information about getting immunised against meningococcal disease talk
to your GP, nurse or health centre, or phone Healthline on 0800 611 116.