Protect your tamariki against meningococcal disease poster - NIP8756
Reviewed

June 2023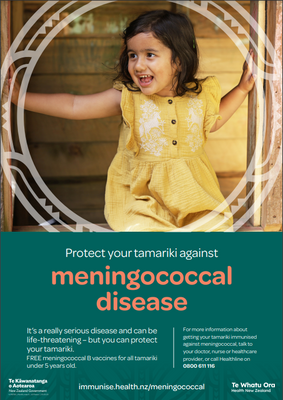 This resource relates to the following topics:
A3 poster with information on free meningococcal B vaccines for tamariki under 5 years old.
Printed copies can be ordered from the National Immunisation Programme Bluestar portal https://portal.bluestar.co.nz/login/moh_vaccine
The full resource:
Protect your tamariki against meningococcal disease
It's a really serious disease and can be life-threatening – but you can protect your tamariki. FREE meningococcal B vaccines for all tamariki under 5 years old.
For more information about getting your tamariki immunised against MenB, talk to your doctor, nurse or healthcare provider, or call Healthline on 0800 611 116