Information for Clients - HE1507
Reviewed

December 2003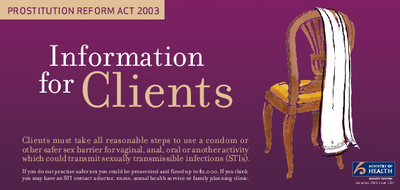 This resource relates to the following topics:
Health and safety requirements for brothels, prostitutes, sex workers and their clients under the Prostitution Reform Act 2003.
The full resource:
Prostitution Reform Act 2003
Information for Clients
Clients must take all reasonable steps to use a condom or other safer sex barrier for vaginal, anal, oral or another activity which could transmit sexually transmissible infections (STIs).
If you do not practise safer sex you could be prosecuted and fined up to $2,000. If you think you may have an STI contact a doctor, nurse, sexual health service or family planning clinic.