Keep your kidneys healthy HE2645
Reviewed

August 2023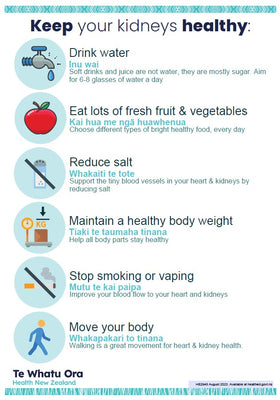 This resource relates to the following topics:
Bright images with minimal wording illustrate how to maintain and improve kidney health. General adult information, for use by anyone to promote and support kidney health. A3 & A4 posters/leaflets. English and te reo Māori.
The full resource:
Keep your kidneys healthy:
Drink water
Inu wai
Soft drinks and juice are not water, they are mostly sugar. Aim for 6-8 glasses of water a day
Eat lots of fresh fruit & vegetables
Kai hua me ngā huawhenua
Choose different types of bright healthy food, every day
Reduce salt
Whakaiti te tote
Support the tiny blood vessels in your heart & kidneys by reducing salt
Maintain a healthy body weight
Tiaki te taumaha tinana
Help all body parts stay healthy
Stop smoking or vaping
Mutu te kai paipa
Improve your blood flow to your heart and kidneys
Move your body
Whakapakari to tinana
Walking is a great movement for heart & kidney health.