What is a kidney health check HE2646
Reviewed

August 2023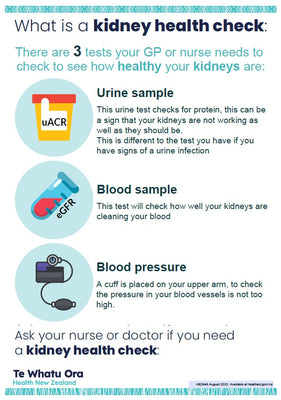 This resource relates to the following topics:
Bright images with minimal wording illustrate the three tests needed for a kidney health check. General adult information, for use by anyone to promote kidney health. A3 & A4 posters/leaflets. English.
The full resource:
There are 3 tests your GP or nurse needs to check to see how healthy your kidneys are:

Urine sample
This urine test checks for protein, this can be a sign that your kidneys are not working as
well as they should be.
This is different to the test you have if you have signs of a urine infection.
Blood sample
This test will check how well your kidneys are cleaning your blood.
Blood pressure
A cuff is placed on your upper arm, to check the pressure in your blood vessels is not too
high.
Ask your nurse or doctor if you need a kidney health check.