What your kidneys do HE2648
Reviewed

August 2023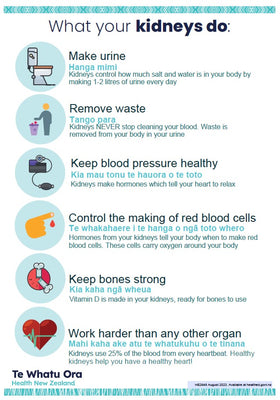 This resource relates to the following topics:
Bright images with minimal wording illustrate interesting facts about what functions the kidneys perform. General adult information, for use by anyone to promote and support kidney health. A3 & A4 posters/leaflets. English and te reo Māori.
The full resource:
Make urine
Hanga mimi
Kidneys control how much salt and water is in your body by making 1-2 litres of urine every day
Remove waste
Tango para
Kidneys NEVER stop cleaning your blood. Waste is removed from your body in your urine.
Keep blood pressure healthy
Kia mau tonu te hauora o te toto
Kidneys make hormones which tell your heart to relax
Control the making of red blood cells
Te whakahaere i te hanga o ngā toto whero
Hormones from your kidneys tell your body when to make red
blood cells. These cells carry oxygen around your body.
Keep bones strong
Kia kaha ngā wheua
Vitamin D is made in your kidneys, ready for bones to use
Work harder than any other organ
Mahi kaha ake atu te whatukuhu o te tinana
Kidneys use 25% of the blood from every heartbeat. Healthy kidneys help you have a healthy heart!