Healthline flyer - Tongan version
Reviewed

June 2019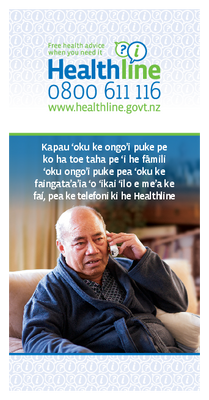 This resource relates to the following topics:
Anyone can call Healthline free on 0800 611 116 for health advice and information anytime, 24 hours a day, 7 days a week.
The full resource:
Kapau 'oku ke ongo'i puke pe ko ha toe taha pe 'i he fāmili 'oku ongo'i puke pea 'oku ke faingata'a'ia 'o 'ikai 'ilo e me'a ke faí, pea ke telefoni ki he Healthline
Ko e Healthline ko e ma'u'anga tokoni mo fale'i ia 'oku fakafou atu 'i he telefoni 'i ha taimi pē (houa 24). 'Oku mau 'i heni ma'u pē he taimi 'oku ke fiema'u ai kimautolú pea 'oku TA'ETOTONGI foki.
'E tali 'a ho'o telefoni maí 'e ha neesi kuo 'osi lēsisita pea 'e lava ke malu mo fakapulipuli ha'a mo talanoa ki ha ngaahi me'a fakafaito'o mo mo'ui lelei 'oku ke hoha'a ki ai. 'E 'eke atu 'e he neesi ha ngaahi fehu'i pea ne toki fale'i koe he me'a ke ke fai.
'Oku 'atā 'a e Healthline ke ngāue'aki 'e he kakai kotoa pē mei he iiki 'o a'u ki he kakai lalahi pea 'oku 'i ai mo e kau fakatonulea 'o kapau te ke fiema'u ia.
'E lava ke toe tānaki atu 'a hono fakahinohino'i 'o e Healthline 'i ha'o 'ahia 'a e taulanga vahaope Healthline.govt.nz
'E ma'u atu ha tokoni mo ha fale'i TA'ETOTONGI 'i he ngaahi me'a fakafaito'o mo e mo'ui leleí 'i ha'o telefoni ta'etotongi ki he HEALTHLINE 0800 611 116.