Easy meals with vegetables: Fish - NPA196
Reviewed

May 2021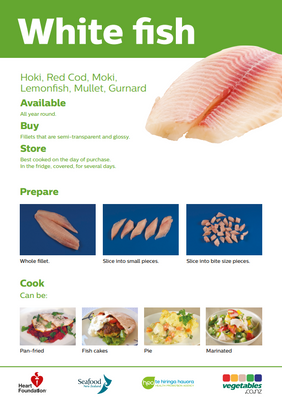 This resource relates to the following topics:
The "Easy meals with vegetables" series show basic storage, preparation and cooking techniques for common vegetables. They are useful to those running introductory cooking classes, in vegetable co-op boxes and for use in healthy lifestyle programmes.
The full resource:
White fish

Hoki, Red Cod, Moki, Lemonfish, Mullet, Gurnard
Available

All year round. 
Buy
Fillets that are semi-transparent and glossy.
Store
Best cooked on the day of purchase.
In the fridge, covered, for several days.

Prepare
Whole fillet.
Slice into small pieces.
Slice into bite size pieces.
Cook
Can be:
Pan-fried
Fish cakes

Pie

Marinated
Vegetable pasta salad with fish (serves 4)
Ingredients
¼ packet pasta shapes
2 carrots, grated
2 courgettes, grated
2 tomatoes, diced
1 avocado, diced (optional)
3 tablespoons vinegar
4 tablespoons oil
600 grams fish fillets
⅓ cup flour
Method
Boil pasta for ten minutes and then drain and set aside.
Mix drained pasta with carrot, courgette, tomato, avocado, vinegar and half of the oil. Refrigerate until ready to serve.
Lightly coat fish fillets in flour. Heat remaining oil in a large pan.
So the pan is not crowded, fry in batches until golden brown. Serve with pasta salad.
For more easy, fast and affordable food ideas visit healthykids.org.nz/eat/recipes, vegetables.co.nz or heartfoundation.org.nz/recipes
This resource is for digital download only.