Easy meals with vegetables: Beef - NPA195
Reviewed

May 2021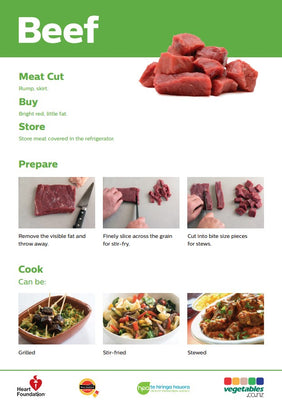 This resource relates to the following topics:
The "Easy meals with vegetables" series show basic storage, preparation and cooking techniques for common vegetables. They are useful to those running introductory cooking classes, in vegetable co-op boxes and for use in healthy lifestyle programmes.
The full resource:
Beef

Meat Cut

Rump, skirt. 
Buy
Bright red, little fat.
Store
Store meat covered in the refrigerator.

Prepare
Remove the visible fat and throw away.
Finely slice across the grain for stir-fry.
Cut into bite size pieces for stews.
Cook
Can be:
Grilled
Stir-fried
Stewed
Beef and broccoli stir-fry (serves 4)
Ingredients
500 grams lean beef, cut into thin strips
1 tablespoon chopped ginger
3 cloves garlic, crushed
2 tablespoons soy sauce
½ tablespoon vinegar
1 teaspoon oil
1 onion, sliced
2 carrots, finely sliced
1 head broccoli, cut into small pieces
½ tablespoon cornflour
½ cup cold water
Method
Mix the beef with the ginger, garlic, soy sauce and vinegar.
Heat the oil in a wok or large frying pan and stir-fry the onion until soft.
Add the beef and continue to cook until brown. Add carrots and broccoli, cook until tender.
Mix the cornflour and water together. Slowly add to the pan, stirring constantly until it thickens. Serve with brown rice.
For more easy, fast and affordable food ideas visit healthykids.org.nz/eat/recipes, vegetables.co.nz or heartfoundation.org.nz/recipes
This resource is for digital download only.