Easy meals with vegetables: Bok Choy - NPA204
Reviewed

May 2021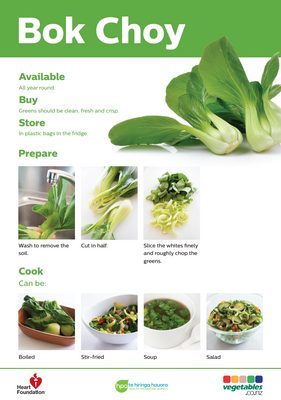 This resource relates to the following topics:
The "Easy meals with vegetables" series show basic storage, preparation and cooking techniques for common vegetables. They are useful to those running introductory cooking classes, in vegetable co-op boxes and for use in healthy lifestyle programmes.
The full resource:
Bok Choy

Available

All year round.

Buy
Greens should be clean, fresh and crisp.

Store
In plastic bags in the fridge.

Prepare

Wash to remove the soil.

Cut in half.
Slice the whites finely and roughly chop the greens.
Cook
Can be:
Boiled
Stir-fried
Soup
Salad
Bok choy and mussel soup (serves 4)
Ingredients
1 onion, chopped
2 tablespoons oil
1 teaspoon curry powder
2 tablespoons tomato sauce

1 chicken stock cube

1 litre water

24 whole mussels

2 carrots, sliced

3-4 bok choy

125 grams vermicelli noodles

3 tablespoons lemon juice
Method
Heat oil in a large pot and cook onion until soft. Add curry powder and stir briefly.
Add tomato sauce, stock cube, water, mussels and carrots. Cover and cook until
mussels have opened.
Slice bok choy crosswise into thin slices. Keep the white and green parts separate. Add white bok choy and noodles. Cover and cook for 5 minutes.
Add green bok choy. Cover and cook for 1 minute. Then squeeze lemon juice over
and serve.
For more easy, fast and affordable food ideas visit healthykids.org.nz/eat/recipes, vegetables.co.nz or heartfoundation.org.nz/recipes
This resource is for digital download only.