Easy meals with vegetables: Cabbage - NPA202
Reviewed

May 2022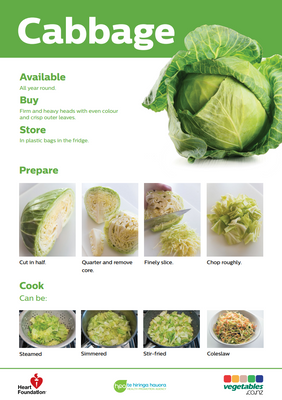 This resource relates to the following topics:
The "Easy meals with vegetables" series show basic storage, preparation and cooking techniques for common vegetables. They are useful to those running introductory cooking classes, in vegetable co-op boxes and for use in healthy lifestyle programmes.
The full resource:
Cabbage

Available

All year round.
Buy
Firm and heavy heads with even colour and crisp outer leaves.
Store
In plastic bags in the fridge.

Prepare

Cut in half.

Quarter and remove core.
Finely slice.
Chop roughly.
Cook
Can be:
Steamed
Simmered
Stir-fried
Coleslaw
Chicken drumsticks with coleslaw and wedges (serves 4)
Ingredients
8 chicken drumsticks, skin removed
3 tablespoons tomato sauce
1½ tablespoons vinegar
1 tablespoon oil

½ cup water

4 potatoes, washed and cut into wedges
2 tablespoons oil

¼

cabbage, shredded
2 carrots, grated

½

apple, grated
2 tablespoons vinegar
3 tablespoons oil
Method
Heat oven to 200°C. Mix drumsticks with tomato sauce, vinegar and oil.
Place in a baking dish and pour water into dish. Bake for 30 minutes or until chicken is thoroughly cooked.
Place potatoes on a baking tray and mix with oil. Bake for 25 - 30 minutes or until crispy and golden brown.
To make coleslaw, mix together the cabbage, carrot, apple, vinegar and oil.
For more easy, fast and affordable food ideas visit healthykids.org.nz/eat/recipes, vegetables.co.nz or heartfoundation.org.nz/recipes
This resource is for digital download only.