Easy meals with vegetables: Cauliflower - NPA206
Reviewed

May 2019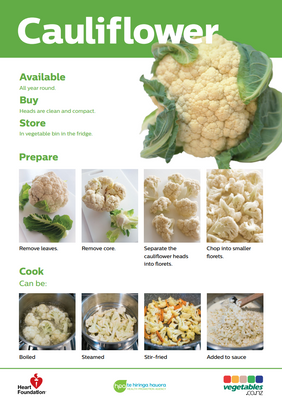 This resource relates to the following topics:
The "Easy meals with vegetables" series show basic storage, preparation and cooking techniques for common vegetables. They are useful to those running introductory cooking classes, in vegetable co-op boxes and for use in healthy lifestyle programmes.
The full resource:
Cauliflower

Available

All year round.

Buy
Heads are clean and compact.

Store
In vegetable bin in the fridge.

Prepare

Remove leaves.

Remove core.
Separate the cauliflower heads into florets.
Chop into smaller florets.
Cook
Can be:
Boiled
Steamed
Stir-fried
Added to sauce

Tuna cauliflower mac n cheese (serves 4)
Ingredients
¼ packet macaroni pasta
½ head cauliflower, chopped
1 can creamed corn
½

 cup milk

1 cup grated cheese

1 cup peas
400g can tuna, drained
Method
Heat oven to 200°C. Boil the macaroni for 8 minutes.
Add cauliflower to pasta and boil for a further 3 minutes. Drain and set aside.
Mix together creamed corn, milk and half the cheese. Then add the peas, tuna, pasta and cauliflower.
Place in a large roasting dish and sprinkle with remaining cheese. Bake for 30 minutes and until top is golden.
For more easy, fast and affordable food ideas visit healthykids.org.nz/eat/recipes, vegetables.co.nz or heartfoundation.org.nz/recipes
This resource is for digital download only.