Easy meals with vegetables: Celery - NPA226
Reviewed

June 2019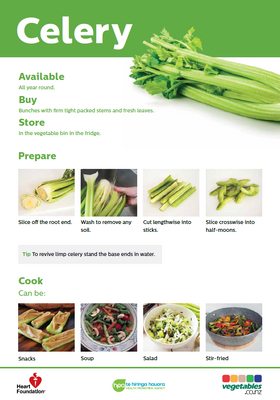 This resource relates to the following topics:
The "Easy meals with vegetables" series show basic storage, preparation and cooking techniques for common vegetables. They are useful to those running introductory cooking classes, in vegetable co-op boxes and for use in healthy lifestyle programmes.
The full resource:
Celery

Available

All year round. 

Buy
Bunches with tight packed stems and fresh leaves.

Store
In the vegetable bin in the fridge.
Prepare

Slice off the root end.

Wash to remove any soil.

Cut lengthwise into sticks.
Slice crosswise into half-moons.
Tip: To revive limp celery, stand the base ends in water.
Cook
Can be:
Snacks

Soup
Salad
Stir-fried

Celery and apple salad (serves 4)

Ingredients
1 apple, sliced thinly
4 stalks celery, sliced

½ cup parsley, chopped roughly
½ red onion, peeled, sliced
2 tablespoons oil
2 tablespoons lemon juice
Method
In a bowl add the apple, celery, parsley and red onion.

Mix well to thoroughly combine.
Add the oil and lemon juice, mix well.
Serve with chicken drums and corn, or with cooked pasta and canned tuna.
For more easy, fast and affordable food ideas visit healthykids.org.nz/eat/recipes, vegetables.co.nz or heartfoundation.org.nz/recipes

This resource is for digital download only.