Easy meals with vegetables: Courgette - NPA198
Reviewed

May 2021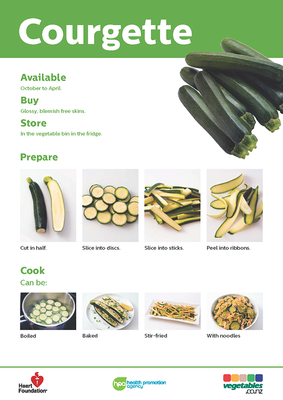 This resource relates to the following topics:
The "Easy meals with vegetables" series show basic storage, preparation and cooking techniques for common vegetables. They are useful to those running introductory cooking classes, in vegetable co-op boxes and for use in healthy lifestyle programmes.
The full resource:
Courgette

Available

October to April.
Buy
Glossy, blemish free skins.

Store
In the vegetable bin in the fridge.

Prepare

Cut in half.

Slice into discs.

Slice into sticks.

Peel into ribbons.
Cook
Can be:
Boiled
Baked
Stir-fried
With noodles
Courgette pasta carbonara (serves 4)
Ingredients
¼ packet dry fettuccini (or spaghetti)
2 tablespoons oil
2 cloves garlic, crushed
4 courgettes, cut into ribbons
2 carrots, cut into ribbons
½ can evaporated milk
1 cup grated cheese
Pinch of salt
Pepper
Method
Into a large pot of boiling water add the pasta. Stir to stop it sticking. Boil for 10 minutes then drain and set aside.
In a large pot add oil and garlic and cook briefly.
Add courgette and carrot, stirring for 1 minute. Add evaporated milk and bring to a boil.
Add drained pasta and cheese, mix well. Season with salt and pepper.
For more easy, fast and affordable food ideas visit healthykids.org.nz/eat/recipes, vegetables.co.nz or heartfoundation.org.nz/recipes
This resource is for digital download only.