Easy meals with vegetables: Cucumber - NPA220
Reviewed

June 2019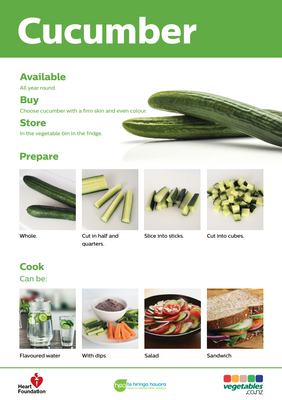 This resource relates to the following topics:
The "Easy meals with vegetables" series show basic storage, preparation and cooking techniques for common vegetables. They are useful to those running introductory cooking classes, in vegetable co-op boxes and for use in healthy lifestyle programmes.
The full resource:
Cucumber

Available

All year round. 

Buy
Choose cucumber with a firm skin and even colour.
Store
In the vegetable bin in the fridge.
Prepare

Whole.
Cut in half and quarters.
Slice into sticks.
Cut into cubes.
Cook
Can be:
Flavoured water
With dips
Salad
Sandwich
Cucumber with yoghurt dip (Tzatziki)
(serves 4)

Ingredients
1 cucumber, grated

1 clove garlic, crushed
¼ cup mint leaves, chopped
1½ cups plain unsweetened yoghurt
1 tablespoon lemon juice
Method
Place grated cucumber in a sieve or clean tea towel over a bowl.

Gently squeeze out the excess liquid. Place cucumber in a bowl.
Add garlic, mint, yoghurt and lemon juice.
Mix well and cover. Place in the fridge until ready to serve.
For more easy, fast and affordable food ideas visit healthykids.org.nz/eat/recipes, vegetables.co.nz or heartfoundation.org.nz/recipes

This resource is for digital download only.