Easy meals with vegetables: Eggplant - NPA203
Reviewed

May 2021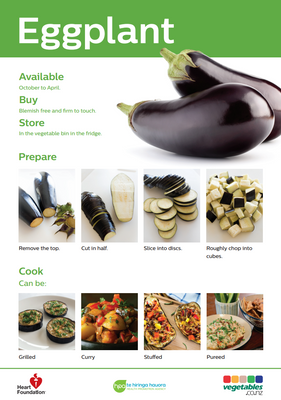 This resource relates to the following topics:
The "Easy meals with vegetables" series show basic storage, preparation and cooking techniques for common vegetables. They are useful to those running introductory cooking classes, in vegetable co-op boxes and for use in healthy lifestyle programmes.
The full resource:
Eggplant

Available

October to April.

Buy
Blemish free and firm to touch.
Store
In the vegetable bin in the fridge.

Prepare

Remove the top.

Cut in half.
Slice into discs.
Roughly chop into cubes.
Cook
Can be:
Grilled

Curry
Stuffed
Pureed
Meatballs with summer ratatouille (serves 4)
Ingredients
500g mince
2 tablespoons tomato sauce

¼

 cup dry breadcrumbs
Pinch of salt
Pepper
2 eggplants, roughly diced
2 onions, roughly diced
2 cloves garlic, sliced

¼

cup oil
1½ cups diced tomatoes
2 courgettes, roughly diced
1 tablespoon vinegar
4 pita breads
Method
Heat oven to 200°C. Mix mince, tomato sauce, breadcrumbs, salt and pepper together. Shape the mixture into balls and refrigerate.
Put the eggplant, onions, and garlic in a roasting dish. Add oil and toss the vegetables to coat. Roast for 20 minutes.
Take vegetables out of the oven and add tomatoes, courgettes and vinegar. Place the meatballs on top.
Return to the oven and cook for 20 minutes. Serve the meatballs and ratatouille with warm pita bread.
For more easy, fast and affordable food ideas visit healthykids.org.nz/eat/recipes, vegetables.co.nz or heartfoundation.org.nz/recipes
This resource is for digital download only.