Easy meals with vegetables: Green beans - NPA223
Reviewed

June 2019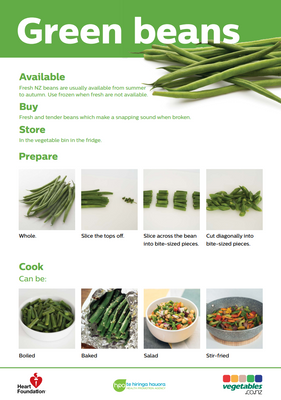 This resource relates to the following topics:
The "Easy meals with vegetables" series show basic storage, preparation and cooking techniques for common vegetables. They are useful to those running introductory cooking classes, in vegetable co-op boxes and for use in healthy lifestyle programmes.
The full resource:
Green beans
Available

Fresh NZ beans are usually available from summer to autumn. Use frozen when fresh are not available.
Buy
Fresh and tender beans which make a snapping sound when broken.
Store
In the vegetable bin in the fridge.
Prepare

Whole.
Slice the tops off.

Slice across the bean into bite-sized pieces.
Cut diagonally into bite-sized pieces.
Cook
Can be:
Boiled

Baked
Salad
Stir-fried
Green bean salad (serves 4)

Ingredients
2 cups green beans, sliced

1 can four bean mix, drained and rinsed
1 can chick peas, drained and rinsed
1 capsicum, diced
½ red onion, diced finely
½ cup parsley, chopped finely
¼ cup vinegar
2 tablespoons oil
1 French bread stick, sliced into 12 slices, or 4 slices of toast bread, sliced in half (optional)
Method
Bring a saucepan of water to the boil and cook green beans for 2 minutes. Drain and cool under cold running water, set aside.

In a large salad bowl, mix together the four bean mix, chickpeas, capsicum, red onion, parsley, green beans, vinegar and oil.
Refrigerate until ready to serve.
Serve as a salad or on top of toasted bread.
For more easy, fast and affordable food ideas visit healthykids.org.nz/eat/recipes, vegetables.co.nz or heartfoundation.org.nz/recipes

This resource is for digital download only.