Easy meals with vegetables: Kūmara - NPA175
Reviewed

May 2021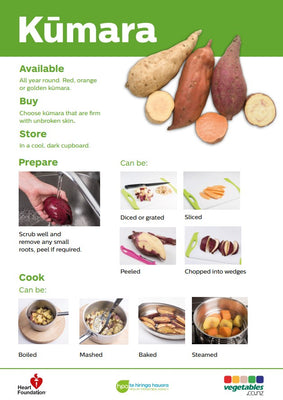 This resource relates to the following topics:
The "Easy meals with vegetables" series show basic storage, preparation and cooking techniques for common vegetables. They are useful to those running introductory cooking classes, in vegetable co-op boxes and for use in healthy lifestyle programmes.
The full resource:
Kūmara

Available
All year round. Red, orange or golden kūmara.
Buy
Choose kūmara that are firm with unbroken skin.
Store
In a cool, dark cupboard.
Prepare
Scrub well and remove any small roots, peel if required.
Can be: 
Diced or grated, sliced, peeled, chopped into wedges
Cook
Can be:
Boiled
Mashed
Baked
Steamed 
Savoury vegetables and mince (serves 4)
Ingredients
500 grams mince
2 cups grated kūmara
1 can (400grams) tomatoes, or 4 fresh tomatoes, chopped
1 large onion, finely chopped
2 cups water
1 teaspoon stock powder
1 cup frozen peas
2 cups sliced silverbeet
To serve: extra kūmara, diced parsley, chopped
Method
Brown mince in a large saucepan.
Add the kūmara, tomatoes, onion, water and stock powder. Cook for 10 minutes.
Add peas and silverbeet and cook for 5 minutes.
Serve with diced, boiled, red and orange kūmara and parsley.
For more easy, fast and affordable food ideas visit healthykids.org.nz/eat/recipes, vegetables.co.nz or heartfoundation.org.nz/recipes
This resource is for digital download only.