Easy meals with vegetables: Leek - NPA229
Reviewed

May 2021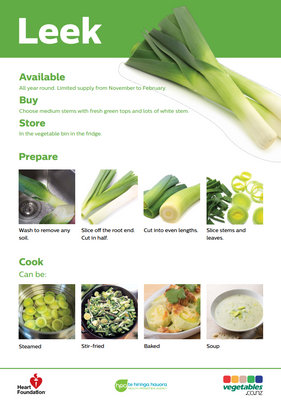 This resource relates to the following topics:
The "Easy meals with vegetables" series show basic storage, preparation and cooking techniques for common vegetables. They are useful to those running introductory cooking classes, in vegetable co-op boxes and for use in healthy lifestyle programmes.
The full resource:
Leek

Available

All year round. Limited supply from November to February.

Buy
Choose medium stems with fresh green tops and lots of white stem.
Store
In the vegetable bin in the fridge.
Prepare

Wash to remove any soil.

Slice off the root end.
Cut in half.
Cut into even lengths.
Slice stems and leaves.

Cook
Can be:
Steamed
Stir-fried
Baked
Soup
Leek and lemon risotto (serves 4)
Ingredients
6 cups water
2 stock cubes
2 tablespoons oil
1 leek, washed and chopped
2 cloves garlic, crushed
1 cup short grain rice (risotto rice)
1 tablespoon lemon zest
2 tablespoons lemon juice

Method
In a pot boil the water. Add the stock cubes. In a separate pot, heat the oil and gently cook the leeks and garlic until soft.
Increase the heat and add the rice to the leeks. Continue to cook for 2 minutes. Then add 1 cup of stock.
Once the stock is absorbed, add the next cup. Continue to add until the rice is cooked and has a thick consistency.
Add the lemon zest and juice and stir through. Serve.
For more easy, fast and affordable food ideas visit healthykids.org.nz/eat/recipes, vegetables.co.nz or heartfoundation.org.nz/recipes
This resource is for digital download only.