Easy meals with vegetables: Mince - NPA192
Reviewed

September 2018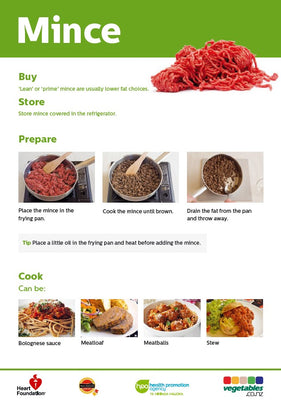 This resource relates to the following topics:
The Easy meals with vegetables series show basic storage, preparation and cooking techniques for common vegetables. They are useful to those running introductory cooking classes, in vegetable co-op boxes and for use in healthy lifestyle programmes.
The full resource:
Mince

Buy
'Lean' or 'prime' mince are usually lower fat choices.
Store
Store mince covered in the refrigerator.
Prepare
Place the mince in the frying pan.
Cook the mince until brown.
Drain the fat from the pan and throw away.
Tip Place a little oil in the frying pan and heat before adding the mince.
Cook
Can be:
Bolognese sauce
Meatloaf
Meatballs
Stew
Cottage pie (serves 4)

Ingredients
4 potatoes, peeled and chopped
½ cup milk
1 tablespoon oil
1 onion, finely chopped
2 carrots, finely chopped or grated
500 grams beef mince
1 cup chopped mushrooms
2 courgettes, finely chopped or grated
1 can chopped tomatoes or 4 tomatoes, chopped
½ cup water
2 tablespoons tomato sauce
¼ cup grated cheese (optional)
Parsley for garnishing
Method
Boil the potatoes until soft. Drain and add the milk, then mash.
Heat oil, onions and carrots in a pan. Cook for 5 – 10 minutes. Add the mince and brown.
Add mushrooms, courgettes, tomatoes, water and tomato sauce. Mix and simmer for 20 – 25 minutes.
Place mince mixture in a baking dish. Spread potato over the top, sprinkle with
cheese. Bake at 200°C for 20 – 30 minutes.
For more easy, fast and affordable food ideas visit
healthykids.org.nz/eat/recipes
,
vegetables.co.nz
or
heartfoundation.org.nz/recipes
This resource is for digital download only.