Easy meals with vegetables: Onions - NPA219
Reviewed

May 2019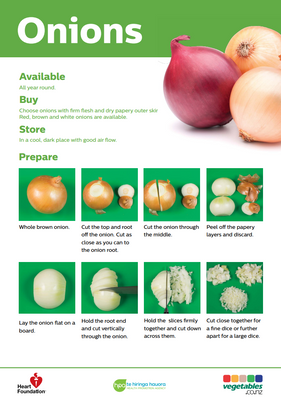 This resource relates to the following topics:
The "Easy meals with vegetables" series show basic storage, preparation and cooking techniques for common vegetables. They are useful to those running introductory cooking classes, in vegetable co-op boxes and for use in healthy lifestyle programmes.
The full resource:
Onions

Available

All year round. 

Buy
Choose onions with firm flesh and dry papery outer skins.
Red, brown and white onions are available.
Store
In a cool, dark place with good air flow.
Prepare

Whole brown onion.

Cut the top and root off the onion. Cut as close as you can to the onion root.
Cut the onion through the middle.

Peel off the papery layers and discard.
Lay the onion flat on a board.
Hold the root end and cut vertically through the onion.
Hold the slices firmly together and cut down across them.
Cut close together for a fine dice or further apart for a large dice.
Bean sprout, onion and cabbage fritters (serves 4)

Ingredients
8 eggs
2 onions, diced finely
¼ cup flour
4 cups bean sprouts
4 cups cabbage, shredded finely
1 cup cooked meat, diced finely (optional)
4 tablespoons oil
Method
Mix together the eggs, onions, flour and bean sprouts.
Add the cabbage and meat. Mix well.
Heat oil in a large frying pan. Spoon a quarter of the mixture into the middle of the pan.
Cook slowly on each side until golden brown and cooked through. Serve.
For more easy, fast and affordable food ideas visit healthykids.org.nz/eat/recipes, vegetables.co.nz or heartfoundation.org.nz/recipes

This resource is for digital download only.