Easy meals with vegetables: Potatoes - NPA208
Reviewed

January 2019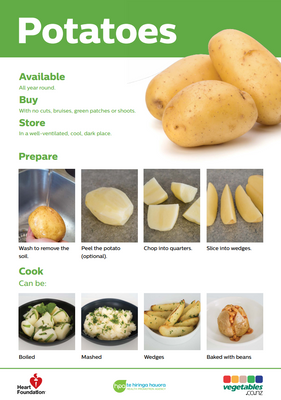 This resource relates to the following topics:
The "Easy meals with vegetables" series show basic storage, preparation and cooking techniques for common vegetables. They are useful to those running introductory cooking classes, in vegetable co-op boxes and for use in healthy lifestyle programmes.
The full resource:
Potatoes

Available

All year round.

Buy
With no cuts, bruises, green patches or shoots.
Store
In a well-ventilated, cool, dark place.
Prepare

Wash to remove the soil.

Peel the potato (optional).
Chop into quarters.

Slice into wedges.
Cook
Can be:
Boiled

Mashed
Wedges
Baked with beans
Potato wedges (serves 4)
Ingredients
4 potatoes, skins on, cut into wedges
2 tablespoons oil
Pinch of salt
Pepper
Method
Heat oven to 225°C. In a large bowl mix together the potato wedges and oil.
Spread evenly on a low sided roasting tray. Bake for approximately 30 minutes or
until crispy and golden brown.
Season with salt and pepper.
Serving Suggestion: Serve with chilli beans and cheese.

For more easy, fast and affordable food ideas visit healthykids.org.nz/eat/recipes, vegetables.co.nz or heartfoundation.org.nz/recipes

This resource is for digital download only.