Easy meals with vegetables: Pumpkin - NPA186
Reviewed

May 2021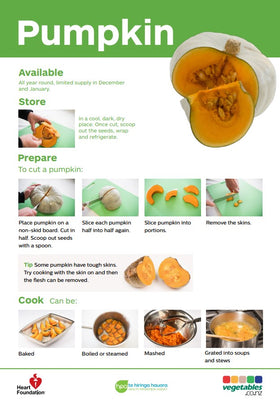 This resource relates to the following topics:
The "Easy meals with vegetables" series show basic storage, preparation and cooking techniques for common vegetables. They are useful to those running introductory cooking classes, in vegetable co-op boxes and for use in healthy lifestyle programmes.
The full resource:
Pumpkin

Available
All year round, limited supply in December and January.
Store
In a cool, dark, dry place. Once cut, scoop out the seeds, wrap and refrigerate.
Prepare
To cut a pumpkin:
Place pumpkin on a non-skid board. Cut in half. Scoop out seeds with a spoon.
Slice each pumpkin half into half again.
Slice pumpkin into portions.
Remove the skins.
Tip: Some pumpkin have tough skins. Try cooking with the skin on and then the flesh can be removed.
Cook
Can be:
Baked
Boiled or steamed
Mashed

Grated into soups and stews
Pumpkin and chicken curry (serves 8)
Ingredients
1 tablespoon canola oil
2 onions, peeled and diced
1 tablespoon curry powder
Ground pepper to taste
3 cups water
¼ cup coconut milk
1 stock cube
½ pumpkin, diced
1 cup frozen peas
1 cup sliced beans (fresh or frozen)
2 cups sliced cooked chicken
To serve:
4 cups cooked brown rice
Fresh mint
Method
Heat oil in a large pan, add onion and cook until clear.
Add curry powder, pepper and mix well.
Add water, coconut milk, stock cube and pumpkin. Bring to the boil, reduce heat and simmer for 15 minutes, until pumpkin is soft.
Add peas, beans and chicken. Stir gently for 5 minutes, until steaming hot.
Serve with hot, cooked brown rice and garnish with mint.
For more easy, fast and affordable food ideas visit
healthykids.org.nz/eat/recipes
,
vegetables.co.nz
or
heartfoundation.org.nz/recipes
This resource is for digital download only.