Easy meals with vegetables: Silverbeet - NPA187
Reviewed

May 2022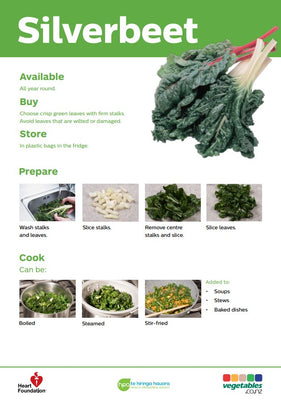 This resource relates to the following topics:
The "Easy meals with vegetables" series show basic storage, preparation and cooking techniques for common vegetables. They are useful to those running introductory cooking classes, in vegetable co-op boxes and for use in healthy lifestyle programmes.
The full resource:
Silverbeet
Available
All year round. 
Buy
Choose crisp green leaves with firm stalks. Avoid leaves that are wilted or damaged.
Store
In plastic bags in the fridge.
Prepare
Wash stalks and leaves.
Slice stalks.
Remove centre stalks and slice.
Slice leaves.
Cook
Can be:
Boiled
Steamed 

Stir-fried
Added to:
Baked frittata (serves 4)
Ingredients
1 tablespoon canola oil
1 onion, peeled and diced
4 eggs
1 cup milk
4 cups grated kūmara
2-3 leaves silverbeet, finely sliced
Ground pepper to taste
Method
Heat oil in a large pan, add onion and cook until clear.
Beat eggs and milk in a large bowl.
Add grated kūmara and cooked onion.
Add finely sliced silverbeet.
Mix well and place in an oven dish. Bake at 180˚C for 1 hour or until the mixture is set and golden brown.
For more easy, fast and affordable food ideas visit healthykids.org.nz/eat/recipes, vegetables.co.nz or heartfoundation.org.nz/recipes
This resource is for digital download only.