Easy meals with vegetables: Sweetcorn - NPA199
Reviewed

March 2019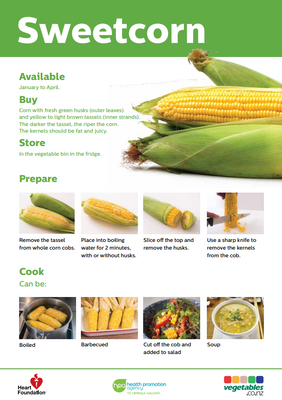 This resource relates to the following topics:
The "Easy meals with vegetables" series show basic storage, preparation and cooking techniques for common vegetables. They are useful to those running introductory cooking classes, in vegetable co-op boxes and for use in healthy lifestyle programmes.
The full resource:
Sweetcorn

Available

January to April.
Buy
Corn with fresh green husks (outer leaves) and yellow to light brown tassels (inner strands).
The darker the tassel, the riper the corn.
The kernels should be fat and juicy.
Store
In the vegetable bin in the fridge.

Prepare

Remove the tassel from whole corn cobs.

Place into boiling water for 2 minutes, with or without husks.
Slice off the top and remove the husks.
Use a sharp knife to remove the kernels from the cob.
Cook
Can be:
Boiled
Barbecued

Cut off the cob and added to salad
Soup

Corn fritters (serves 4)
Ingredients
4 corn cobs, cooked or 2 cans whole kernel corn, drained
1 capsicum, finely chopped (optional)
4 eggs
½ cup flour
1 teaspoon baking powder
Pinch of salt
Pepper
3 tablespoons oil
Method
Remove the corn kernels from the cob.
Place corn, capsicum, eggs, flour, and baking powder in a bowl.
Mix well and season with salt and pepper.
Heat oil in a large frying pan. Spoon 2 tablespoons of mixture into pan to form fritters. Cook in batches until browned on each side.
For more easy, fast and affordable food ideas visit healthykids.org.nz/eat/recipes, vegetables.co.nz or heartfoundation.org.nz/recipes
This resource is for digital download only.