Easy meals with vegetables: Tomato - NPA201
Reviewed

May 2022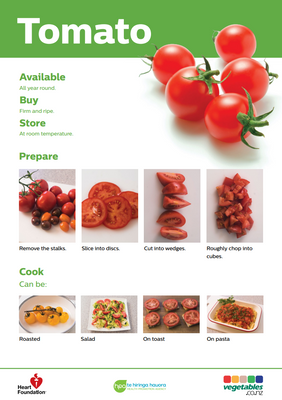 This resource relates to the following topics:
The "Easy meals with vegetables" series show basic storage, preparation and cooking techniques for common vegetables. They are useful to those running introductory cooking classes, in vegetable co-op boxes and for use in healthy lifestyle programmes.
The full resource:
Tomato

Available

All year round.
Buy
Firm and ripe.
Store
At room temperature.

Prepare

Remove the stalks.
Slice into discs.

Cut into wedges.
Roughly chop into cubes.
Cook
Can be:
Roasted

Salad
On toast
On pasta
Tomato salsa (serves 4)
Ingredients
4 tomatoes, finely chopped
½ onion, finely chopped
¼ cup lemon juice/vinegar
2 tablespoons oil
Pinch of salt
Pepper
Method
Finely chop the tomatoes and onions.
Add lemon juice and oil

Season and mix well. Keep refrigerated until ready to serve.
Serve with baked potato wedges.
For more easy, fast and affordable food ideas visit healthykids.org.nz/eat/recipes, vegetables.co.nz or heartfoundation.org.nz/recipes
This resource is for digital download only.