Has your teen missed any immunisations? - HE2501
Reviewed

December 2022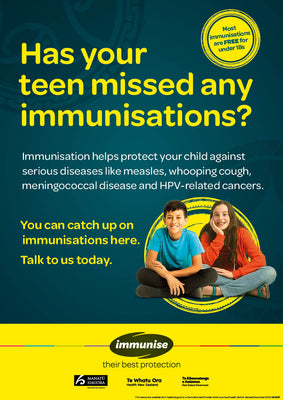 This resource relates to the following topics:
Information encouraging parents and caregivers to check their teenager's immunisation status and to talk to their health professional if they need to catch up.
The full resource:
Has your teen missed any immunisations?
Most immunisations are FREE for under 18s
Immunisation helps protect your child against serious diseases like measles, whooping cough, meningococcal disease and HPV-related cancers.
You can catch up on immunisations here.
Talk to us today.