National Bowel Screening Programme – te reo Māori version – HP8033
Reviewed

March 2022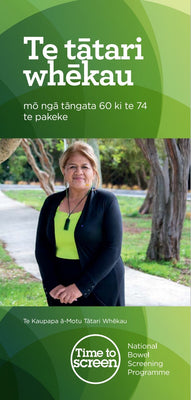 This resource relates to the following topics:
Gives brief information in te reo Māori promoting the free National Bowel Screening Programme for people aged 60–74, and directing to sources of additional information. Please note that orders are restricted to 50 units.
The full resource:
Te tātari whēkau
mō ngā tāngata 60 ki te 74
te pakeke
Ko Aotearoa tētahi whenua e kaha nei te pāngia e te mate pukupuku whēkau puta noa i te ao. Mā te tātari whēkau auau e āwhina kia moata te tirotiro mēnā he mate pukupuku kia pai ai te kimi huarahi whakaora.
Ka tīmataria ināianei te Kaupapa ā-Motu Tātari Whēkau kore utu puta noa i Aotearoa. Ka wātea ki ngā tāne me ngā wāhine 60 ki te 74 tau te pakeke e āhei ana ki te tono ki te tauwhirotanga hauora nā te kāwanatanga i utu.
I mua i te wā ka tātarihia koe, ka tukuna ki a koe he reta pōwhiri, he puka whakaaetanga me tētahi kete whakamātautau tātari whēkau kore utu.
Ka whiwhi tono koe i roto i te rua tau mai i te wā ka tīmata te kaupapa ki tō rohe.
Ka mahia te whakamātautau i te kāinga, ā, he pai, he māmā noa iho.
Arā atu anō ētahi whakamārama mō te Kaupapa ā-Motu Tātari Whēkau kei www.timetoscreen.nz, waea atu rānei ki 0800 924 432.
Haere ki tō tākuta ināianei mēna kei te raruraru ō whēkau.
Code: HP8033