Power to Protect: Never ever shake a baby A4 - HE2463
Reviewed

December 2022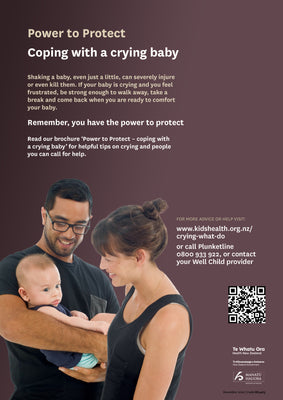 This resource relates to the following topics:
Poster educating people about how serious harm can be done to a baby if they are shaken, and giving information about where to go for help. Code HE2463.
The full resource:
Power to Protect
Coping with a crying baby
Shaking a baby, even just a little, can severely injure or even kill them. If your baby is crying and you feel frustrated, be strong enough to walk away, take a break and come back when you are ready to comfort your baby.
Remember, you have the power to protect
Read our brochure 'Power to Protect – coping with a crying baby' for helpful tips on crying and people you can call for help.
FOR MORE ADVICE OR HELP VISIT:
www.kidshealth.org.nz/crying-what-do or call Plunketline 0800 933 922, or contact your Well Child provider
December 2022