Protecting your pēpi from whooping cough starts during pregnancy poster - HP8574
Reviewed

June 2023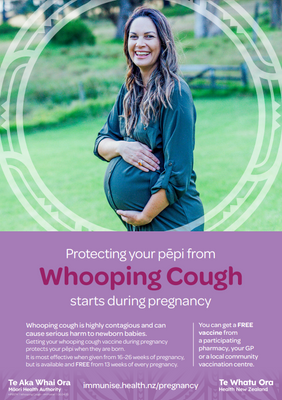 This resource relates to the following topics:
A3 poster about whooping cough immunisation during pregnancy.
Printed copies can be ordered from the National Immunisation Programme Bluestar portal https://portal.bluestar.co.nz/login/moh_vaccine
The full resource:
Protecting your pēpi from whooping Cough starts during pregnancy.
Whooping cough is highly contagious and can cause serious harm to newborn babies.
Getting your whooping cough vaccine during pregnancy protects your pēpi when they are born. It is most effective when given from 16-26 weeks of pregnancy, but is available and FREE from 13 weeks of every pregnancy.
You can get a FREE vaccine from a participating pharmacy, your GP or a local community vaccination centre.