BreastScreen Aotearoa – NZSL version - NZ Sign Language
Reviewed

October 2019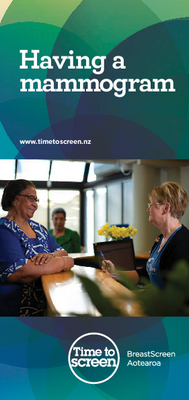 This resource relates to the following topics:
General information in English on the national breast screening programme and on the benefits of having regular mammograms, checking for early signs of breast cancer.
The full resource:
This New Zealand Sign Language (NZSL) translation also offers audio, for the purpose of viewing together with someone who may not understand sign language.  The audio is paced to align with each section of the NZSL messaging.
Having a mammogram every two years improves a woman's chances of surviving breast cancer.
BreastScreen Aotearoa is a free national breast screening programme that checks women for early breast cancer. The programme aims to reduce the number of women who die from breast cancer.
Who can have a free screening mammogram?
A screening mammogram is an X-ray of the breast.
You can have a free screening mammogram every two years through BreastScreen Aotearoa if you meet all the following:
are aged 45–69 years
have no symptoms of breast cancer
have not had a mammogram in the last 12 months
are not pregnant or breastfeeding
are eligible for public health services in New Zealand*
If you meet the criteria above and have had breast cancer, you can re-enter BreastScreen Aotearoa five years from when your cancer was found.
What are the chances of getting breast cancer and dying from it?
The risk of breast cancer increases as you get older. Of those women who get breast cancer, three-quarters are 50 years and over.
Most women who get breast cancer have no close relative with the disease. Even among women with a family history of breast cancer, only a very small number will be at high risk of getting breast cancer.
The chance of a New Zealand woman getting and dying from breast cancer each year is shown in the table below. Because there are effective treatments available for breast cancer, most women who get breast cancer do not die from it.
What are the benefits of regular screening?
Screening does not stop you getting breast cancer, but does reduce your chance of dying from it.
If you are under 50, screening reduces your chance of dying from breast cancer by about 20 percent. If you are between 50–65, screening reduces your chance of dying from breast cancer by about 30 percent. For women aged 65–69, it is reduced by about 45 percent.
Chance of developing or dying from breast cancer
Age
For every 10,000 women
45–49
50–54
55–59
60–64
65–69
The chance of developing breast cancer is
22
24
26
33
34
The chance of dying from breast cancer each year without screening is
4
5
7
7
9
The chance of dying from breast cancer each year with screening is
3
3
3
5
5
Source: MOH: Data are averages for 2005–2009 incidence and mortality
What should I know about mammograms?
Mammograms are breast X-rays. When you have a mammogram, the medical radiation technologist (radiographer) who takes the X-rays places each breast in turn between two plates on the X-ray machine. The plates hold the breast firmly for a few seconds while the pictures are taken. Some women find this uncomfortable, and a few find it painful. It does not harm the breasts.
How accurate are mammograms?
Mammograms are not perfect. They are currently the best way to find breast cancer.
A mammogram may suggest that something is not right when, in fact, all is well. This is called a false positive result.
You may notice symptoms of breast cancer between your two-yearly screening tests. This is called an interval cancer and can happen because:
some cancers do not show up on a mammogram. This is more likely in women before menopause and in some women who take Hormone Replacement Therapy who often have dense breast tissue. Breast density usually reduces as women age and go through menopause
the radiologists (X-ray doctors) looking at the mammogram may miss the cancer. This will happen sometimes, no matter how experienced the radiologists are
sometimes a fast growing cancer will develop.
Despite this, mammograms are the only proven way for finding breast cancers early enough to reduce your risk of dying of breast cancer.
What women aged 45–69 should know about mammograms.
Regular mammograms reduce the change of dying from breast cancer among women aged 45–69. However, the benefit is greatest for women aged 50–69 years for two reasons.
Breast tissue is denser in women under 50. This can make it more difficult to see a cancer. About a quarter of cancers in women under 50 years are missed.
A false positive result is also more common in women under 50 and can lead to more unnecessary tests and anxiety.
Mammograms:
can show changes in the breast before anything can be seen or felt. In most cases the changes will not be cancer
can detect breast cancer early, which means a very good chance of successful treatment
are particularly effective in women 50 years and over who have mammograms every two years
can detect about 75 percent of unsuspected cancers in women under 50 and 85 percent in women over 50
cannot prevent you getting breast cancer and cannot always prevent death from breast cancer.
What about my results?
The programme will send your results to you within two weeks of having your mammogram.
For most women, the result will be normal and you will be asked to return for your next mammogram in two years.
A small number of women will be phoned to come back because something needs further checking. This service, which is also free, may involve more mammograms, an ultrasound and perhaps the taking of a small sample of breast tissue for examination under a microscope. About 80% of the  women recalled will not have breast cancer.
The few women who do have breast cancer will be referred to a specialist for treatment. Most women with breast cancer will be advised to have surgery to remove the cancer. Some women will need further treatment such as radiation therapy, hormone therapy, chemotherapy or a combination of these.
What are some of the limitations?
As with all screening tests, breast screening has some risks.
You may need to have more tests if there was something on your mammogram that needs to be checked out. You will need to come in for another appointment and sometimes the additional tests are uncomfortable. While most women returning for further tests aren't found to have breast cancer, this can still be a worrying time.
All X-rays, including mammograms, mean you are exposed to a small amount of radiation – but the amount is so small it is unlikely to cause you any harm.
It is possible that a mammogram could find a breast cancer that would never have caused problems during a woman's lifetime. Unfortunately it is not possible to tell the difference between cancers that do cause problems and those that will not.
If a breast cancer is found you will be offered treatment. There is a possibility that you may have treatment for a breast cancer that would not have been life threatening.
Despite having mammograms every two years, breast cancer might still be missed. This could be because some cancers don't show up on a mammogram, the radiologist (X-ray doctor) may not pick it up, or the cancer might be very fast growing.
Remember, despite these risks, mammograms are the only proven way of finding breast cancers early enough to reduce your risk of dying of breast cancer.
Further information can be obtained by requesting the booklet "More about breast screening and BreastScreen Aotearoa" from your BreastScreen Aotearoa Centre or by phoning 0800 270 200.
Who can I talk to?
Your GP or practice nurse can answer any questions you may have to help you with your decision about participating in the BreastScreen Aotearoa programme.
What does BreastScreen Aotearoa offer?
The programme offers free screening mammograms to all women aged 45–69 who have no symptoms of breast cancer. Follow-up assessment is also free.
Screening is done every two years.
All BreastScreen Aotearoa facilities have to meet the BreastScreen Aotearoa National Policy and Quality Standards. These are independently checked. Monitoring reports are available to the public. 
After you have your breasts X-rayed, at least two radiologists will check your mammograms for breast cancer.
If you have had mammograms elsewhere, BreastScreen Aotearoa needs to see these to compare the results with your current mammogram.
How do I join?
If you are aged 45–69 years and have been screened with BreastScreen Aotearoa before, you will get a letter inviting you for another mammogram with the programme. You can also make an appointment by ringing 0800 270 200. You should also ring this number if you have changed your address since your last mammogram.
All other women aged 45–69 who do not have breast symptoms can now register for the programme by ringing 0800 270 200, or enquire about the programme on-line.
Where are BreastScreen Aotearoa Centres located?
The Centres are located throughout New Zealand, ring 0800 270 200 to enquire about the centre closest to you. They are wheelchair accessible.
Mobile screening units also travel around the country, to view the mobile screening unit schedule go to http://www.nsu.govt.nz/current-nsu-programmes/1493.aspx
Having your mammogram
Don't use talcum powder, creams or deodorants on the day of your mammogram as these make cancers harder to find on the mammogram.
Because you will need to undress from the waist up, wear clothing that is easy to remove, such as a blouse or jersey.
A cape or gown will be available where you have your mammogram.
Every care will be taken to ensure privacy when you have your mammogram.
The radiographer will want you to be as comfortable as possible. Discuss any concerns with her.
Bring any previous mammograms that you have.
Bring your glasses if you need them for reading as you will need to fill in a form.
You may bring a support person or member of your whānau with you.
The whole visit should take about thirty minutes.
The results of the mammogram will be sent directly to you. They will also be shared with your GP unless you tell us otherwise.
Some breast cancers develop during the time between screening mammograms.
If you notice any breast symptoms (changes thare are not normal for you), see your doctor as soon as possible. Do not wait for your screening mammogram to have this problem checked.
Possible signs of breast cancer are:
a new lump or thickening
a change in breast shape or size
pain in the breast that is unusual
puckering or dimpling of the skin
any change in one nipple, such as:

a turned-in nipple
a discharge that occurs without squeezing

a rash or reddening of the skin that appears only on the breast. 
Your rights
As with all health services, your rights are protected by the Code of Health and Disability Services Consumers' Rights. These are:
Respect and privacy
Fair treatment
Dignity and independence
Appropriate standards
Information
Choice and consent
Support
Rights during teaching.
Your information
The programme also has a legal obligation under the Health Information Privacy Code. Your clinical record and breast X-rays will be kept confidential and stored securely.
To assess the effectiveness and quality of the programme, BreastScreen Aotearoa wishes to notify you that the following information may be collected:
any information relating to treatment you have received for your breasts in the past and may require in the future
any relevant clinical information, your mammograms and reports.
The information will be collected from public and private providers, that is, by the Ministry of Health or its agents, for example, another entity designated by the National Screening Unit or BreastScreen Aotearoa, the NZ Health Information Service or the Cancer Registry through your National Health Index Number (NHI).
As a result of collecting this information, your mammograms will be able to be assessed more accurately, BSA will be able to provide you with any necessary follow-up assessment and you will be invited to attend your next mammogram.
You will receive more information about your rights when you attend a BreastScreen Aotearoa Centre.
Remember
Women of any age who feel or notice anything unusual about their breasts, at any time, should see their doctor.
For more information or to enrol online, visit our website www.breastscreen.govt.nz
To contact your nearest BreastScreen Aotearoa Centre freephone 0800 270 200 or visit our website and click on 'Where to have a mammogram'.
---
* The Eligibility Direction describes the groups of people who are eligible for publicly funded (free or subsidised) personal health and disability services in New Zealand. Details of eligibility are available on the Ministry of Health website.