Easy meals with vegetables: Beetroot - NPA214
Reviewed

May 2021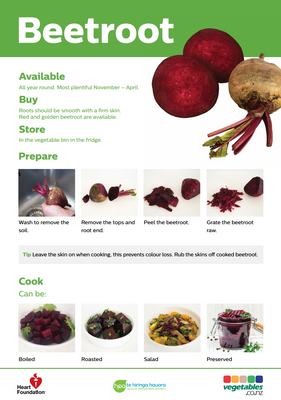 This resource relates to the following topics:
The "Easy meals with vegetables" series show basic storage, preparation and cooking techniques for common vegetables. They are useful to those running introductory cooking classes, in vegetable co-op boxes and for use in healthy lifestyle programmes.
The full resource:
Beetroot

Available

All year round. Most plentiful November-April.

Buy
Roots should be smooth with a firm skin.
Red and golden beetroot are available.
Store
In the vegetable bin in the fridge.
Prepare

Wash to remove the soil.

Remove the tops and root end.

Peel the beetroot.
Grate the beetroot raw.
Cook
Can be:
Boiled

Roasted

Salad
Preserved
Beetroot, carrot and apple salad (serves 4)
Ingredients
2 large beetroot, peeled and grated
3 medium carrots, peeled and grated
2 apples, grated
¼ cup orange juice
¼ cup oil
1 teaspoon paprika
¼ teaspoon ground cumin
Method
Toss the grated beetroot, carrot and apple together in a large bowl.
In a small bowl mix the orange juice, oil, paprika and cumin. Make sure there are
no lumps.
Pour the dressing over the salad.
Mix well. Serve in a bread roll or as a side salad with cooked meat.
For more easy, fast and affordable food ideas visit healthykids.org.nz/eat/recipes, vegetables.co.nz or heartfoundation.org.nz/recipes

This resource is for digital download only.