National Bowel Screening Programme – Samoan version - HP6833
Reviewed

August 2021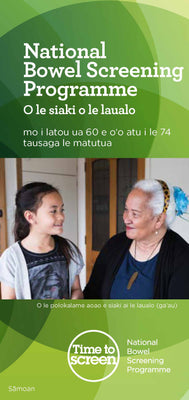 This resource relates to the following topics:
Gives brief information in Samoan promoting the free National Bowel Screening Programme for people aged 60–74, and directing to sources of additional information.
The full resource:
O Niu Sila, o se tasi o atunu'u o le lalolagie maualuga fuainumera o tagata ua maua ile kanesa o le laualo poo le ga'au. E tailuatausaga ma fai lenei suesuega e iloa aitulaga poo ua afaina i le kanesa e vave aiona togafitia.
E leai se totogi mo tagata 60-74 tausaga (sitiseni ma nofo mau).
A oo atu le polokalame i lou itumalo/nuu, o le a lafoina atu se tusi valaaulia, pepa ole maliega atoa ma ni faatinoga (kit) e fai ai lenei suesuega.
E faatinoina lava lenei suesuega i totonu o lou
maota/laoa.
O le tele o nisi fa'amatalaga e te mauaina mai luga o le polokalame aoao e siaki ai le ga'au i le www.timetoscreen.nz pe telefoni:
0800 924 432.
E tatau ona va'ai lau foma'i i le taimi nei pe afai o lo'o iai ni āuga o lo'o e popole ai.
Code: HP6833