National Bowel Screening Programme – Cook Islands Māori version - HP6879
Reviewed

August 2018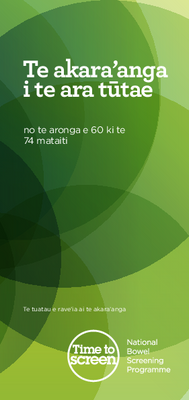 This resource relates to the following topics:
Gives brief information in Cook Islands Māori promoting the free National Bowel Screening Programme for people aged 60–74, and directing to sources of additional information. Please note this resource will be available in printed format shortly.
The full resource:
Ko Nu Tireni tetai tei rauka i te turanga teitei rava atu no te maki pu'aroto o te ara tūtae (bowel cancer) i roto i teianei-ao. Na te akara putuputu'anga i te ara tūtae e tauturu kia kitea viviki'ia te maki pu'aroto (cancer) e kore ei te mate e tupu, e na teia katoa e rauka ai te rapakau i te reira maki kia meitaki.
Kua akamata'ia te Porokaramu Basileia o te Akara'anga i te Ara Tūtae i te raveia ma te tutaki kore takapini ia Nu Tireni katoa. Te oronga'ia nei teia ki te tanetini e te vainetini uki mataiti 60 ki te 74, tei tau to ratou turanga kia raveia te reira e te turanga no te au akapou'anga i akanoo'ia e te putuputu'anga rapakau maki.
Me noou te tuatau kia akara'ia koe, ka tuku'ia atu tetai peapa pati'anga, tetai peapa retita oronga tika'anga e tetai ko'u o te au apinga akara ara tūtae, ma te tutaki kore.
Ka tae atu taau pati'anga mua, i roto i te nga rua mataiti o te akamata'anga te porokaramu i roto i toou matakeinanga.
Ka rave'ia te akara akatinamou'anga ki toou ngutuare, ma te ma e te mama ua i te rave'anga.
Tena tetai au tuatua akakitekite akaou mai no te Porokaramu Basileia o te Akara'anga i te Ara Tūtae, tei runga i te roro uira atuitui www.timetoscreen.nz, me kore ra, na roto i te tereponi'anga i te numero 0800 924 432.
E mea tau kia aere koe ki ko I toou taote i teia taime nei, me e turanga manamanata toou no toou ara tūtae.
Code: HP6879