National Bowel Screening Programme – Niuean version - HP6832
Reviewed

April 2018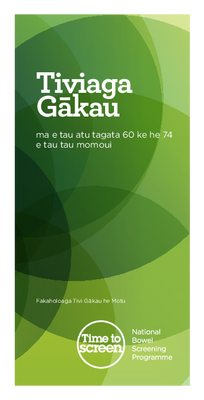 This resource relates to the following topics:
Gives brief information in Niuean promoting the free National Bowel Screening Programme for people aged 60–74, and directing to sources of additional information.
The full resource:
Ko Niu Silani taha motu he lalolagi kua tū tokoluga e nūmela tagata kua moua he tau kenesā gākau. Ko e matagahua tivi gākau tumau nai ke fakahao mai e tau momoui ke moua tuai e tau kenesā he magaaho ke maeke ai ke fai tuluiaga ki ai.
Ko e Fakaholoaga Tivi Gākau he Motu nakai fai totogi kua taute ai ke he motu katoa ha Niu Silani. Kua taute ai ke lata mo lautolu e tau tagata taane mo e fifine ke he tau atu tau momoui mai he 60 ke he 74 tau kua tonuhia ke moua e tau lagomatai tupe leveki malolō.
Kaeke kua hoko mai haau a magaaho ke tivi ai, to fakafano atu e taha tohi uiina ki a koe fakalataha mo e laupepa fakamooli mo e taha tama taga tivi gākau moua noa.
To moua e koe haau a uiina fakamua ke he vahāloto he ua e tau tau he fakatū e fakaholoaga he matakavi kua nofo ai a koe.
To taute e tivi ke he kaina, ti meā foki mo e mukamuka ke taute.
Ke moua foki falu a talahauaga ke he Fakaholoaga Tivi Gākau he Motu ke kumi tu ai ke he www.timetoscreen.nz, po ke hea telefoni atu ke he 0800 924 432.
Kua lata a koe ke finatu he magaaho nai ke he haau a ekekafo kaeke kua fai fakamailoga kua kehe mai ke he haau a gākau.
Code: HP6832.