National Bowel Screening Programme – Tongan version - HP6835
Reviewed

September 2021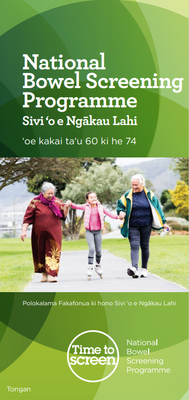 This resource relates to the following topics:
Gives brief information in Tongan promoting the free National Bowel Screening Programme for people aged 60–74, and directing to sources of additional information.
The full resource:
Sivi 'o e Ngākau Lahi 'oe kakai ta'u 60 ki he 74
Polokalama Fakafonua ki hono Sivi 'o e Ngākau Lahi
'Oku ma'u 'e Nu'u Sila 'ae taha 'oe ngaahi tu'unga lahi taha pe ma'olunga taha 'oe Kanisa 'oe Ngākau Lahi 'i mamani. 'E lava 'e he toutou sivi 'oe Ngākau Lahi ke fakahaofi ha ngaahi mo'ui 'i he'ene tokoni ke 'ilo vave 'ae Kanisaa 'i he taimi pe tu'unga 'oku kei lava ai ke ma'u ha ola lelei 'a hano faito'o
Ko e Polokalama faka-fonua mo ta'e totongi ko eni ki hono sivi 'oe Ngākau Lahi 'oku lolotonga faka-hoko ia mo fakamafola atu ki Nu'u Sila hono kotoa. 'Oku lolotonga 'oatu e sivi ni ki he kakai tangata mo fefine 'oku nau ta'u 60 ki he 74. Ka 'oku nau ma'u e ngofua pe 'ata ke nau ngaue'aki e ngaahi ngaue ki he mo'ui lelei 'oku totongi 'e he Pule'anga.
'I he a'u pe ko e hoko mai e taimi ke fai ai 'a ho sivi, 'e 'oatu 'a ho'o tohi fakaafe 'i he meili, tohi kole ngofua pea moe naunau sivi kanisa 'oe Ngākau Lahi 'oku 'ikai ke totongi.
'E 'oatu pe te ke ma'u 'a ho'o 'uluaki tohi fakaafe 'i he meili lolotonga 'ae ta'u 'e ua mei he kamata 'ae Polokalama 'i he 'elia pe vahefonua ki he mo'ui 'oku ke nofo ai.
Ko e tesi pe sivi ni 'oku fai pe 'i ho 'api , pea 'oku faingofua ke ke fai pe 'e koe tokotaha.
'Oku 'iai ha toe ngaahi fakamatala fekau'aki pea moe Polokalama Faka-fonua ko eni ki he sivi 'oe Ngākau Lahi fekau'aki pea moe kanisaa 'e ma'u atu mei he uepisaiti ko eni: www.timetoscreen.nz, Pe ko ho'o telefoni ki he fika ko eni: 0800 924 432.
'Oku totonu ke ke 'alu leva ki ho'o Toketaa 'o kapau 'oku 'iai ha ngaahi faka'ilonga mahaki fekau'aki mo ho Ngākau Lahi 'oku ke ongo'i pe fakatokanga'i.
Code: HP6835.