COVID-19 Get Boosted flyer - Pasifika design - Cook Islands Māori version - NIP8734CKI
Reviewed

June 2023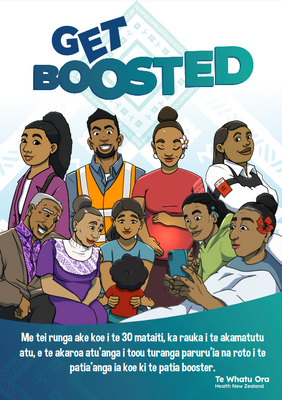 This resource relates to the following topics:
As part of the 'By Pacific, For Pacific' campaign, this leaflet answers why and who can get an extra covid booster and where to get more information.
Printed copies can be ordered from the National Immunisation Programme Bluestar portal https://portal.bluestar.co.nz/login/moh_vaccine
The full resource:
Get Boosted
Me tei runga ake koe i te 30 mataiti, ka rauka i te akamatutu atu, e te akaroa atu'anga i toou turanga paruru'ia na roto i te patia'anga ia koe ki te patia booster.
Eaa ra koe ka anoano ei i teia patia booster paruru na runga ake?
No te pāruru atu ia koe, e toou ngutu'are tangata mei te covid, e me tu ia ake koe e kua pitia'ia koe ki te booster, kare e pakari roa te maki. Ka tu, e ka tu akaou'ia tetai ua atu tangata e te covid, inara na roto i te booster, ka matutu atu toou turanga paruru'ia.
Ko'ai ka tau ki teia patia booster paruru na runga ake?
 Ko tetai ua atu i runga ake i te 30 mataiti, va'ine nui i rotopu i te 19 e te 29 mataiti e pera te au tangata e maki tinamou to ratou, (akara'anga: maki puku'atu, oviri e te toto vene).
Ka tau koe kia patia'ia ki teia patia pāruru na runga ake koia te booster, me kua tae te 6 marama mei te tuātau openga i patia booster ia ei koe, me kore mei te taime openga i tō'ia ei koe e te covid.
Ka rauka toou patia mei ko atu i toou Taote, me kore mei ko mai i tetai Are Vairakau – Chemist.
Me ka inangaro koe i te kite oonu atu ki roto i teia, atoro atu i te kupe immunise.health.nz/covid me kore ringi atu i te numero tutakikore 0800 28 29 26.