COVID-19 Get Boosted flyer - Pasifika design - Tokelauan version - NIP8734TOK
Reviewed

June 2023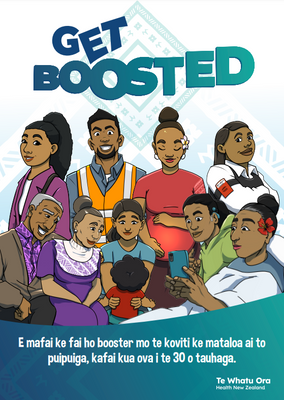 This resource relates to the following topics:
As part of the 'By Pacific, For Pacific' campaign, this leaflet answers why and who can get an extra covid booster and where to get more information.
Printed copies can be ordered from the National Immunisation Programme Bluestar portal https://portal.bluestar.co.nz/login/moh_vaccine
The full resource:
Get Boosted
E mafai ke fai ho booster mo te koviti ke mataloa ai to puipuiga, kafai kua ova i te 30 o tauhaga.
Aihea te fai ai ho tui booster?
Ke puipuia ai koe ma to kāiga mai te koviti ke na he tauale tigāina foki kafai e maua ai. Ko te fai o ho booster e malohi ai to puipuiga auā ko koe e mafai ke maua fakafia i te koviti.
Ko ai te mafai ke fai ni o latou booster?
Ko hō he tino kua katoa te 30 tauhaga ki luga, na fafine e manava kīkī i te vā o te 16 ki te 29 tauhaga, kae vēna foki ma na tino e iei o latou tauale tumau, (eg, tauale fatu, kaneha ma te huka).
E mafai ke fai ho booster kafai kua katoa te 6 mahina talu te fai o to tui booster taluai pe ko koe na maua i te koviti.
E mafai ke fai ho booster i te fale talavai pe ko tau fomai.
Fakamolemole kikila ifo ki te laupepa tenei immunise.health.nz/covid pe telefoni ki te numela 0800 28 29 26 mo ni ietahi fakamatalaga.