COVID-19 Get Boosted flyer - Pasifika design - Tongan version - NIP8734TON
Reviewed

June 2023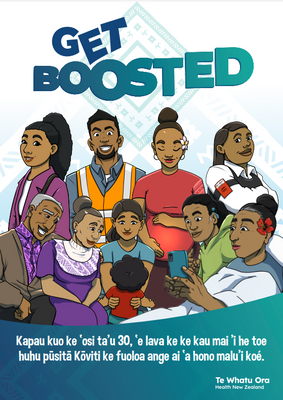 This resource relates to the following topics:
As part of the 'By Pacific, For Pacific' campaign, this leaflet answers why and who can get an extra covid booster and where to get more information.
Printed copies can be ordered from the National Immunisation Programme Bluestar portal https://portal.bluestar.co.nz/login/moh_vaccine
The full resource:
Get Boosted
Kapau kuo ke 'osi ta'u 30, 'e lava ke ke kau mai 'i he toe huhu pusita Koviti ke fuoloa ange ai 'a hono malu'i koé.
Ko e toe huhu pusita ko iá ke ha?
Ke tokoni atu ki hono malu'i koe mo ho fāmilí mei he Kōvití, pea mo ha'o puke lahi mei ai. 'E lava foki ke ke toe pihia 'o puke tu'o lahi he Kōvití ka 'e malohi ange 'a hono malu'i koé 'i ha'o toe huhu pūsitā.
Ko hai 'e lava ke kau he huhu pusita ko 'eni'?
Kau feitama ta'u 16 ki he 29, ha taha pē kuo 'osi ta'u 30 pe lahi ange, mo kinautolu 'oku 'i ai hanau mahaki tauhi (hangē ko e mahaki mafu, kanisā pe suka).E mafai ke fai ho booster i te fale talavai pe ko tau fomai.

'E lava ke ke kau ki he huhu ko'ení kapau kuo 'osi ha māhina 'e 6 hili 'a ho'o huhu pūsitā fakamuimui tahá pe ko ha'o sivi Kōviti na'e positivi.
'E lava ke fai ho huhu ko'ení 'e ha toketa fakafamili pe 'i ha famasi pe kemisi (chemist).
Vakai ki he fakahinohino 'oku 'oatu 'i he uepisaiti: immunise.health.nz/covid pe ko ha'o telefoni ki he Healthline - 0800 28 29 26.