COVID-19 Get Boosted flyer - Pasifika design - Samoan version - NIP8734SAM
Reviewed

June 2023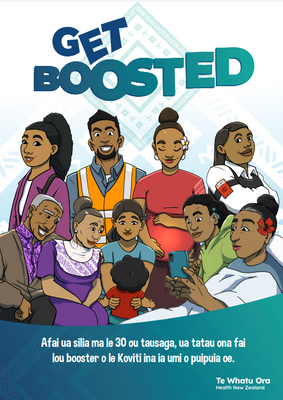 This resource relates to the following topics:
As part of the 'By Pacific, For Pacific' campaign, this leaflet answers why and who can get an extra covid booster and where to get more information.
Printed copies can be ordered from the National Immunisation Programme Bluestar portal https://portal.bluestar.co.nz/login/moh_vaccine
The full resource:
Get Boosted
Afai ua silia ma le 30 ou tausaga, ua tatau ona fai lou booster o le Koviti ina ia umi o puipuia oe.
Aisea e tatau ai ona faia le booster?
Ina ia puipuia oe ma lou aiga mai le Koviti ma ona to'atugā. E mafai ona maua e sili atu i le faalua oe i le Koviti; o le booster o le a malosi ai le puipuiga o oe.
O ai e tatau ona fai o latou booster?
So'o se tasi ua atoa le 30 tausaga pe sili atu, o tinā ma'itaga ua 16 – 29 tausaga, ma tagata e maua i ma'i tumau (ma'i fatu, kanesa ma le ma'i suka).
E mafai ona faia lou tui puipui booster pe afai ua atoa le 6 masina talu ona fai lou booster mulimuli, pe ua ono masina talu ona maua oe i le koviti.
E mafai ona fai lou booster i lau fomai po'o se fale talavai/kemisi.