COVID-19 Get Boosted flyer - Pasifika design - Fijian version - NIP8734FIJ
Reviewed

June 2023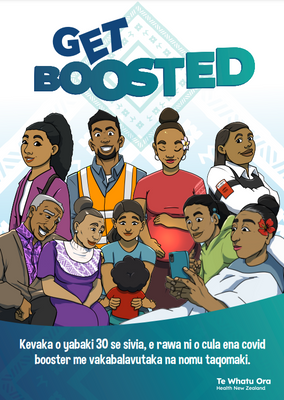 This resource relates to the following topics:
As part of the 'By Pacific, For Pacific' campaign, this leaflet answers why and who can get an extra covid booster and where to get more information.
Printed copies can be ordered from the National Immunisation Programme Bluestar portal https://portal.bluestar.co.nz/login/moh_vaccine
The full resource:
Get Boosted 
Kevaka o yabaki 30 se sivia, e rawa ni o cula ena covid booster me vakabalavutaka na nomu taqomaki.
Na cava na vuna mo cula tale kina ena booster?
Me vukea na nomudou taqomaki vakavuvale mai na covid ka mo kua talega ni tauvimate bibi. E na rawa ni tauvi iko tale vakavica na covid. Na booster ena vakalevutaka na nomu taqomaki.
O cei e rawa ni cula tale ena booster?
O koya e yabaki 30 se sivia, marama bukete yabaki 16 ki na 29, kei ira e tauvi ira tiko e dua na mate bibi (me vaka na mateniuto, cancer se matenisuka).
E rawa ni o cula tale e na booster kevaka sa oti e 6 na vula na dede ni gauna o a cula taumada kina ena na booster, se mai na gauna o a tauvi covid kina.
E rawa ni o cula ena booster vei nomu vuniwai (GP) se ena kemesi (chemist).