COVID-19 Get Boosted flyer - Pasifika design - NIP8734
Reviewed

June 2023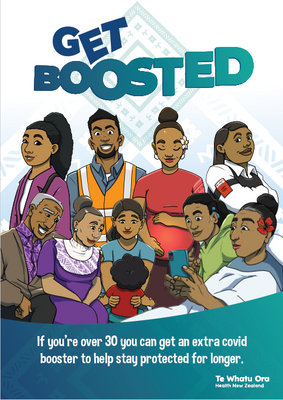 This resource relates to the following topics:
As part of the 'By Pacific, For Pacific' campaign, this leaflet answers why and who can get an extra covid booster and where to get more information.
Printed copies can be ordered from the National Immunisation Programme Bluestar portal https://portal.bluestar.co.nz/login/moh_vaccine
The full resource:
Get Boosted
If you're over 30 you can get an extra covid booster to help stay protected for longer. 
Why get an extra covid booster?
To help protect you and your family against covid and from getting really
sick. You can catch covid more than once and an extra booster will give you stronger protection.
Who can get an extra booster?
Anyone aged 30 years and over, pregnant women aged 16 to 29 years, and people with underlying health conditions, (eg, heart disease, cancer and diabetes).
You can get an extra booster if it's been at least 6 months since your last booster or covid positive test.
You can get a booster at the doctor or chemist.
For more information visit immunise.health.nz/covid or call Healthline on 0800 28 29 26.