National Bowel Screening Programme National campaign poster A3 Samoan - HE2630
Reviewed

April 2023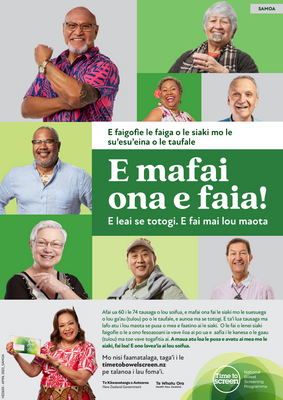 This resource relates to the following topics:
National bowel screening campaign posters, A3 size in Samoan. Posters can be used by anyone who wants to support and promote the bowel screening programme.
The full resource:
E faigofie le faiga o le siaki mo le su'esu'eina o le taufale

E mafai ona e faia!
E leai se totogi. E fai mai lou maota

Afai ua 60 i le 74 tausaga o lou soifua, e mafai ona fai le siaki mo le suesuega o lou ga'au (tulou) po o le taufale, e aunoa ma se totogi. E ta'i lua tausaga ma lafo atu i lou maota se pusa o mea e faatino ai le siaki. O le fai o lenei siaki faigofie o le a ono fesoasoani ia vave iloa ai po ua e aafia i le kanesa o le gaau (tulou) ma toe vave togafitia ai. A maua atu loa le pusa e avatu ai mea mo le siaki, fai loa! E ono lavea'ia ai lou soifua.
Mo nisi faamatalaga, taga'i i le
timetobowelscreen.nz
pe talanoa i lau foma'i.  

 Code: HE2630