National Bowel Screening Programme National campaign poster A3 Fijian - HE2633
Reviewed

April 2023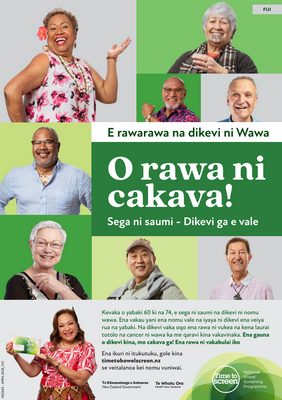 This resource relates to the following topics:
National bowel screening campaign posters, A3 size in Fijian. Posters can be used by anyone who wants to support and promote the bowel screening programme.
The full resource:
E rawarawa na dikevi ni Wawa

O rawa ni cakava!
Sega ni saumi - Dikevi ga e vale

Kevaka o yabaki 60 ki na 74, e sega ni saumi na dikevi ni nomu wawa. Ena vakau yani ena nomu vale na iyaya ni dikevi ena veiya rua na yabaki. Na dikevi vaka oqo ena rawa ni vukea na kena laurai totolo na cancer ni wawa ka me qaravi kina vakavinaka. Ena gauna o dikevi kina, mo cakava ga! Ena rawa ni vakabulai iko.
Ena ikuri ni itukutuku, gole kina timetobowelscreen.nz se veitalanoa kei nomu vuniwai.

 Code: HE2633