National Bowel Screening Programme National campaign poster A3 Tuvaluan - HE2638
Reviewed

April 2023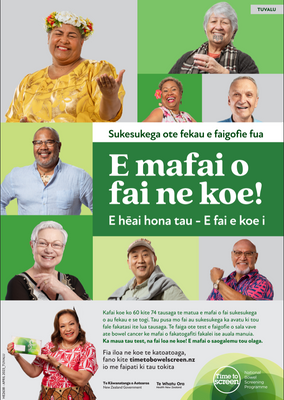 This resource relates to the following topics:
National bowel screening campaign posters, A3 size in Tuvaluan. Posters can be used by anyone who wants to support and promote the bowel screening programme.
The full resource:
Sukesukega ote fekau e faigofie fua

E mafai o fai ne koe!
E hēai hona tau - E fai e koe i
Kafai koe ko 60 kite 74 tausaga te matua e mafai o fai sukesukega o au fekau e se togi. Tau pusa mo fai au sukesukega ka avatu ki tou fale fakatasi ite lua tausaga. Te faiga ote test e faigofie o sala vave ate bowel cancer ke mafai o fakatogafiti fakalei ise auala manuia. Ka maua tau test, na fai loa ne koe! E mafai o saogalemu tou olaga.
Fia iloa ne koe te katoatoaga, fano kite timetobowelscreen.nz io me faipati ki tau tokita
Code: HE2638