National Bowel Screening Programme National campaign poster A3 English - HE2628
Reviewed

April 2023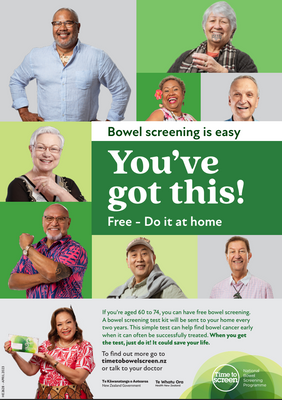 This resource relates to the following topics:
National bowel screening campaign posters, A3 size in English. Posters can be used by anyone who wants to support and promote the bowel screening programme.
The full resource:
Bowel screening is easy

You've got this!
Free - Do it at home

If you're aged 60 to 74, you can have free bowel screening. A bowel screening test kit will be sent to your home every two years. This simple test can help find bowel cancer early when it can often be successfully treated. When you get the test, just do it! It could save your life.
To find out more go to timetobowelscreen.nz or talk to your doctor
 Code: HE2628